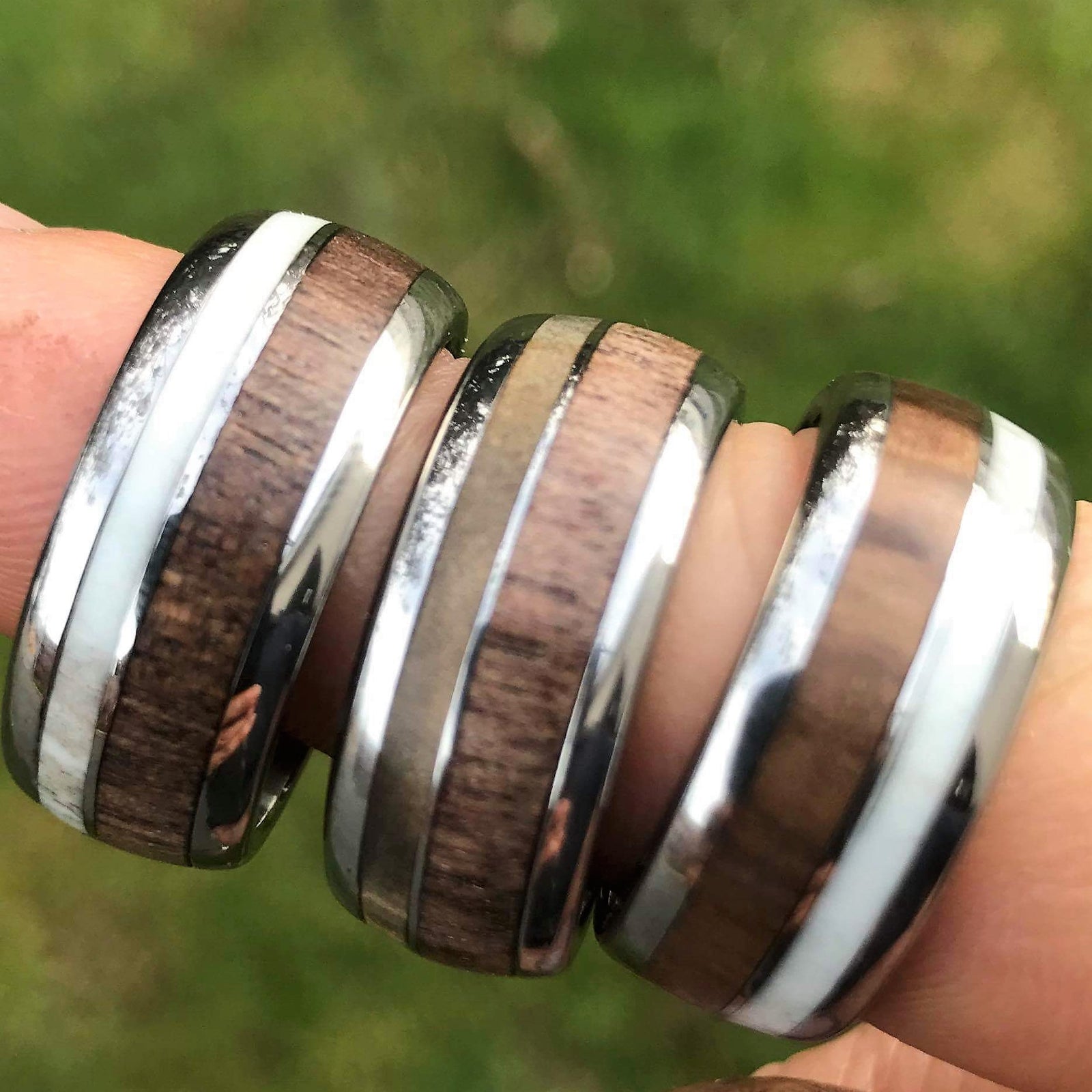 The 'Aroha' Collection celebrates the beautiful materials nature has provided us here in our own backyard. Designed & made in Christchurch, New Zealand - each of the rings in this stunning collection features one or more of the unique materials below & you can mix & match them however you'd like in your ring.
Ancient Kauri Wood
These gigantic trees grew to nearly 2000 years old in prehistoric forests before they were buried in an unexplained act of nature at the end of the last Ice Age (most likely a massive storm). Nicknamed the 'Giants of the Forest' some have an impressive girth of up to 40 feet, and could grow up to a jaw-dropping 200 feet high.
Photos: Modern day Kauri trees - while impressive, still pale in comparison to Ancient Kauri's enormous size.
Preserved in pristine condition for thousands of years in the peat bogs of New Zealands North Island, ancient Kauri has been buried for up to 50,000 years, making it the oldest wood on Earth & one of the most valuable, sought after & highly prized timbers in the world.
Photo: painstakingly uncovering and extracting ancient Kauri is extremely expensive & time consuming.
Photo: a relatively 'small' section of ancient Kauri is carefully transported.
These prehistoric trees have survived the centuries underground, sealed in a chemically balanced environment that has preserved the timber in perfect condition and prevented it turning to stone like other ancient woods from the same time period.
Photo: A trademark of ancient Kauri is deep, shimmering streaks of iridescence, called "white bait", named after small New Zealand fish that display a gleaming effect when swimming together in groups.



Photo: The wood can sometimes give off the similar, rich reflections as a 'Tigers Eye' Gemstone.


Photo: Just like people - no two trees are exactly the same, so every piece has a slightly different pattern & look.
Export of this precious timber is now closely monitored and supplies of it can be hard to find. Here at Storm Baker we've secured enough to make some very special & unique wedding bands. So if you're looking for a piece of prehistoric history from beautiful New Zealand that you can wear on your finger, look no further.
Photos: Rings featuring Ancient Kauri from our Aroha range (click here to shop).
Greywacke Rock
This very hard variety of Sandstone makes up a large percentage of the base rock of New Zealand including many of our world famous Mountain ranges. When polished it displays flecks of green, black, grey & white.
Photo: Our Southern Alps sit on solid bedrock of Greywacke.
 
Photos: Rings featuring Greywacke from our Aroha range (click here to shop).
Red Deer Antler
New Zealand Red deer are world famous for their heavy multi-pointed antlers that typically form a crown of points at the antler tops. Nothing matches these animals for sheer antler mass to body size. The Red stag deer is one of the most majestic and noble creatures you could hope to encounter in New Zealand.
We use sustainable antler that deer 'shed' yearly so you can sleep easy knowing no animals were harmed to make your ring. However, for those Hunter / Gatherers out there we can use Antler that you've provided for that extra special touch to an already impressive ring (contact us for details)
Photos: Rings featuring NZ Red Deer Antler from our Aroha range (click here to shop) 
Black Maire Wood
This evergreen tree is one of the hardest timbers in New Zealand. Heavy and strong, mature Black Maire is extremely durable. In earlier times it was used by the Maori for digging sticks, wedges for splitting wood, canoe paddles and bailers, beaters and mallets (but was generally too heavy for weapons, other than for very thin double-pointed spears). Early Europeans also used the wood for bridges, wharves and other structures.
Photo: Maire Timber has a creamy grain rippled with streaks of black.
Photos: Rings featuring Black Maire from our Aroha range (click here to shop).
Black Ebony Wood
Ebony timber has been highly prized for thousands of years due to its extreme hardness & elegant black finish when polished. Carved pieces of it have been found in the tombs of Egyptian Pharaohs & Ancient Greece. In more modern times it's been used to craft expensive furniture, guitars, chess pieces & many other high end items.
Photo: The Older the tree, the darker & more valuable its timber is. Judging from its size & black colour - this specimen is most likely aged between 100-200 years old.
Ebony is extremely dense and one of the few woods that sinks in water. It's also become very valuable due to it's rarity and is now prized as the most expensive wood in the world.
Photos: Rings featuring Ebony wood from our Aroha range (click here to shop).
We hope you enjoyed this blog post - we'll be adding more rings with different materials to the range as the collection grows.
________________________________________
Kauri Photo credits: Ancients Woods / Radio NZ  / Healthhealing.org / The Daily Blog / Woodworking Network.

Greywacke Photo Credits:  University Of Auckland / Southern Alps Photography.

Red Deer Photo Credits: Pinterest / animalmix.com

Black Maire Photo Credits: nzforests.co.nz / walkers woodturning

Black Ebony Photo Credits: treeplantation.com
---