Wedding Rings - Your Love Embodied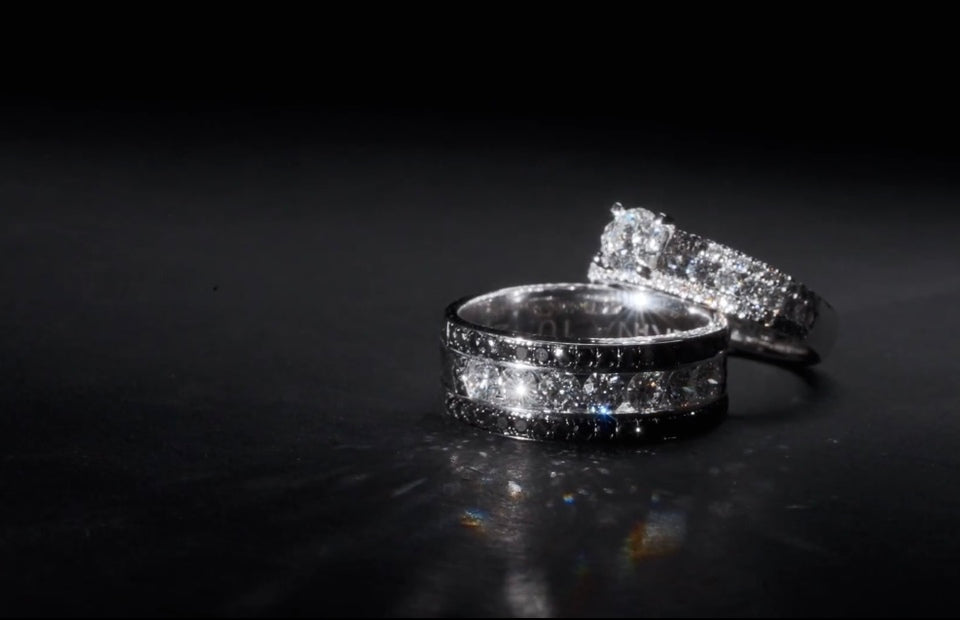 An unbroken line, a perfect circle of unmarred metal and gemstone - your wedding ring is the perfect representation of a union meant to last for all eternity. It marks the sealing of the vows between you and your beloved, the metal signature upon the contract between your hearts.
And rings of today are no longer the concern of women alone. Modern men's wedding rings can too be adorned with stunning jewels, a symbol of prestige, family and your undying devotion to your beloved.
With so many options for a wedding ring, the most important thing you must keep in mind while choosing yours is that it is a ring you like. After all, you're likely to be wearing this ring every day, so you want something that is comfortable, that befits your style and that is a worthy representation of the bond between you and your spouse. 
You may wish to consider a ring that matches your partner's, or, if you are fortunate enough to have one, your engagement ring.
https://stormbaker.com/collections/diamond-rings
Gold remains an ever-classic, timeless option, a worthy metal that fits almost any look and style and offers lasting shine. The modern couple can choose from traditional yellow gold, sleek, modern white gold or even contemporary, stylish rose gold. Diamonds are forever, so they say, but there is no reason why you could not choose a different stone for your band.

Perhaps the vivid red of a garnet to highlight the rich hues of a rose gold ring, or the tranquil blue of an aquamarine or sapphire to complement the moonlike, silvery shine in a white gold band. Why not select an emerald to remind you of the forest in which you walked, hand in hand, in your courting days or the rolling green pastures that frame the house you bought together? The rich, obsidian heart of an onyx could mirror the nighttime skies above the city where you sealed your union with a kiss, or when you wined, dined, and danced your hearts away.
There are, of course, plenty of options for rings without gemstone inlays at all. Sleek, masculine and durable, titanium and tungsten are excellent choices for the new groom. These hardy materials are a particularly good choice if you work with your hands and are certain to withstand the trials of everyday life - much like your love itself.
https://stormbaker.com/collections/mens
A Wedding Band Like None Other
Our bespoke ring designs are quite literally like nothing you will find anywhere else. If you have a particular vision in mind for your wedding band or simply want something that is certain to stand out from the convention of the crowd, our artisan jewellers can help.

The team here at Storm Baker have specialist experience creating custom rings. Whether you have your ideal band all sketched out, a general idea of what you may want or simply have your heart set on a bespoke ring, talk to us.

We encourage you to browse our collections for inspiration and have a chat with us about your preferences. We will craft you a ring that symbolises the irreplaceable nature of your beautiful marriage and eternal bond, customising everything from the:
Material of the band

Choice, cut, and colour of the stone

Size, width and fit of the ring
https://stormbaker.com/collections/custom-bespoke-archive
Laboratory Made Symbols of Love
They say that diamonds are forever and indeed, these glittering stones are exceptional symbols of the bond between you and your beloved. What greater representation of the strength of your marriage could there be than a stone that is near unbreakable?

Yet diamonds are finite and growing rarer by the day. A wedding is an expensive affair, and you certainly would not want to compromise on your ceremony for the ring - or vice versa.

But that does not mean that you have to relinquish your dreams of a diamond ring if you are on a budget. Here at Storm Baker, we offer jewellery made with lab grown diamonds. [link to lab grown diamonds page] These gemstones are chemically and optically identical to mined diamonds. They are so indistinguishable to the naked eye that even a trained jeweller cannot tell them apart with a look alone! Yet they are far more affordable than their geologically formed counterparts - and, as the product of sustainable, conflict-free origins, are arguably a more ethical choice.


Your wedding ring will be one of the most important pieces of jewellery you ever wear, so don't let it be an afterthought to the ceremony. Here at Storm Baker, we can craft a perfect symbol of enduring love that you will be proud to wear every day.

If you would like to arrange a consultation with one of our jewellers, please contact us at sales@stormbaker.com or book an appointment to visit our Christchurch showroom.
https://stormbaker.setmore.com
---